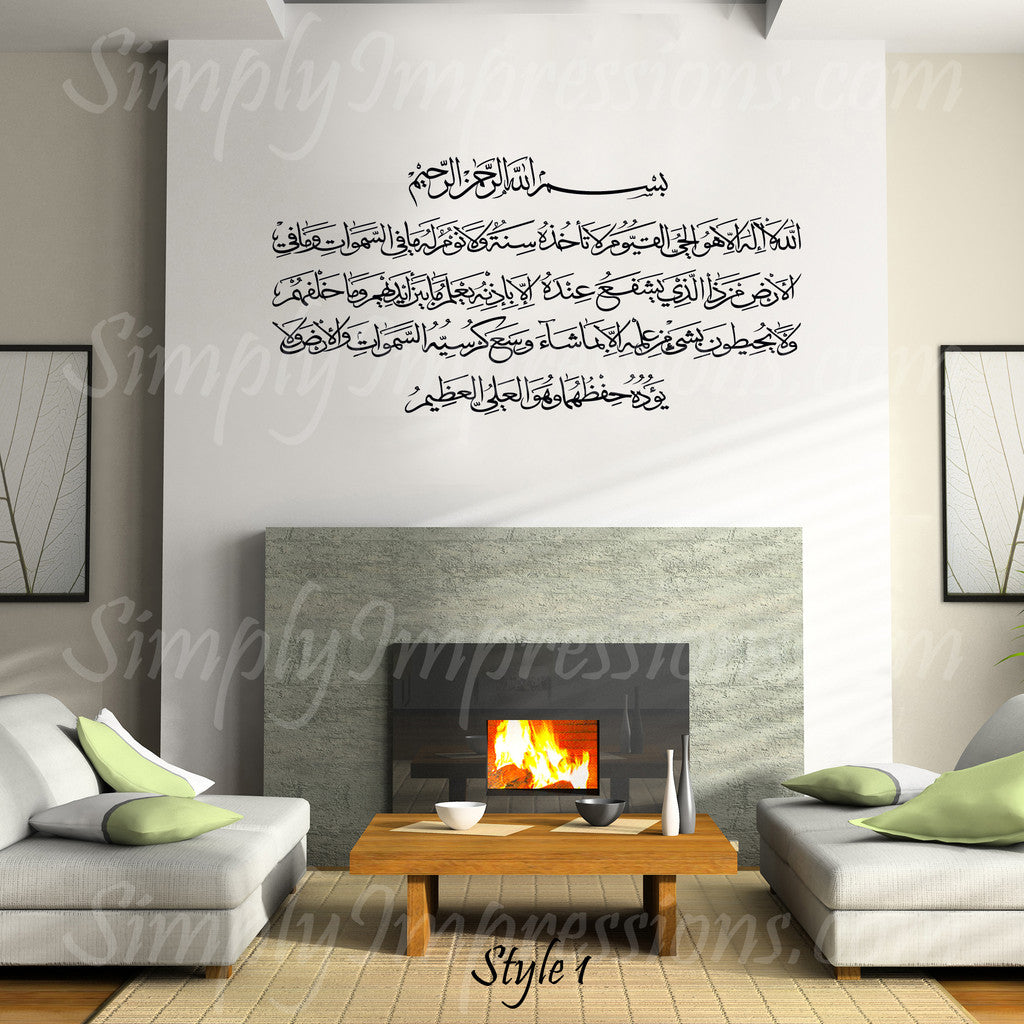 The heart of the Quran, Ayat Kursi, Al-Bakarah 255. Display this beautiful verse in your living room, dining room or even in your entrance  hall. Be creative and let the verses wrap around your walls as a border for your room. 
You have two style to choose from, Style 1 written in 5 lines, and Style 2 Written in 8 lines, Both come as a single sheet measuring 27'" x 59"
Don't see the size you want then drop us an email and we will be happy to accommodate your request.
(To arrange in a single row, you will need to cut the rows apart and place them side by side)
Transliteration
Allahu la ilaha illahuwa alhayyu alqayyoomu la ta/khuthuhusinatun wala nawmun lahu ma fee assamawatiwama fee al-ardi man tha allatheeyashfaAAu AAindahu illa bi-ithnihi yaAAlamu mabayna aydeehim wama khalfahum wala yuheetoonabishay-in min AAilmihi illa bima shaawasiAAa kursiyyuhu assamawati wal-ardawala yaooduhu hifthuhumawahuwa alAAaliyyu alAAatheem
Translation 
Allah - there is no deity except Him, the Ever-Living, the Sustainer of [all] existence. Neither drowsiness overtakes Him nor sleep. To Him belongs whatever is in the heavens and whatever is on the earth. Who is it that can intercede with Him except by His permission? He knows what is [presently] before them and what will be after them, and they encompass not a thing of His knowledge except for what He wills. His Kursi extends over the heavens and the earth, and their preservation tires Him not. And He is the Most High, the Most Great.
Note: We make every decal to order, please allow a minimum of 1-5 business days for processing on ALL orders.
Color Chart – For Decals Only
Please keep in mind that color on screen can vary due to variations in screen brands and resolution.
Colors We Carry In Stock

| | |
| --- | --- |
| | Black |
| | Brown |
| | Lavender |
| | Celadon |
| | Copper (metallic) |
| | Dark Grey |
| | Dark Red |
| | Gentian Blue |
| | Geyser Blue |
| | Gold (metallic) |
| | Green |
| | Light Yellow |
| | Maize |
| | Olive |
| | Persimmon |
| | Pink |
| | Silver Grey (metallic) |
| | Teal |
| | White |
| | Yellow Green |
| | Soft Pink |
| | Red |
| | Outdoor White (glossy) |
| | Dark Grey (glossy) |
You Can Count On Us
FREE SAMPLE & COLOR SWATCH
We'll send you a complete swatch of vinyl colors along with a FREE vinyl sample to test on your walls. You only pay for shipping & handling.
GET STARTED NOW
DESIGN SERVICES
Can't decide on a color? Don't know which design goes with your room? Conflicting design ideas? If this is you, we're here to help. We offer professional design services to harmonize your home décor.
TELL ME MORE
CUSTOM COLOR & SIZES
We have a wide range of sizes, colors, paints, and stains to choose from. Can't find the perfect color or size? We're here to help.
GET IN TOUCH
SHIPPING & HANDLING
FREE Shipping on USA orders over $100. When you place an order with Simply Impressions, each art piece is meticulously prepared just for you. Please allow 2-5 days for processing and 2-3 days for USA priority shipping. USA shipping costs $3-$7. Internationals starts at $18.
MADE IN THE U.S.A
Established in 2011, we proudly design and manufacture all our products in the USA and we source all our raw materials from local vendors. Your support helps keep local businesses strong. Thank you!
IMPECCABLE QUALITY
We source the best quality materials. Our vinyl is durable, long lasting, and removable. Our wood products are made from sustainable Baltic Birch Plywood along with locally sourced hardwoods. All our paints and stains are low odor and have a long lasting finish.