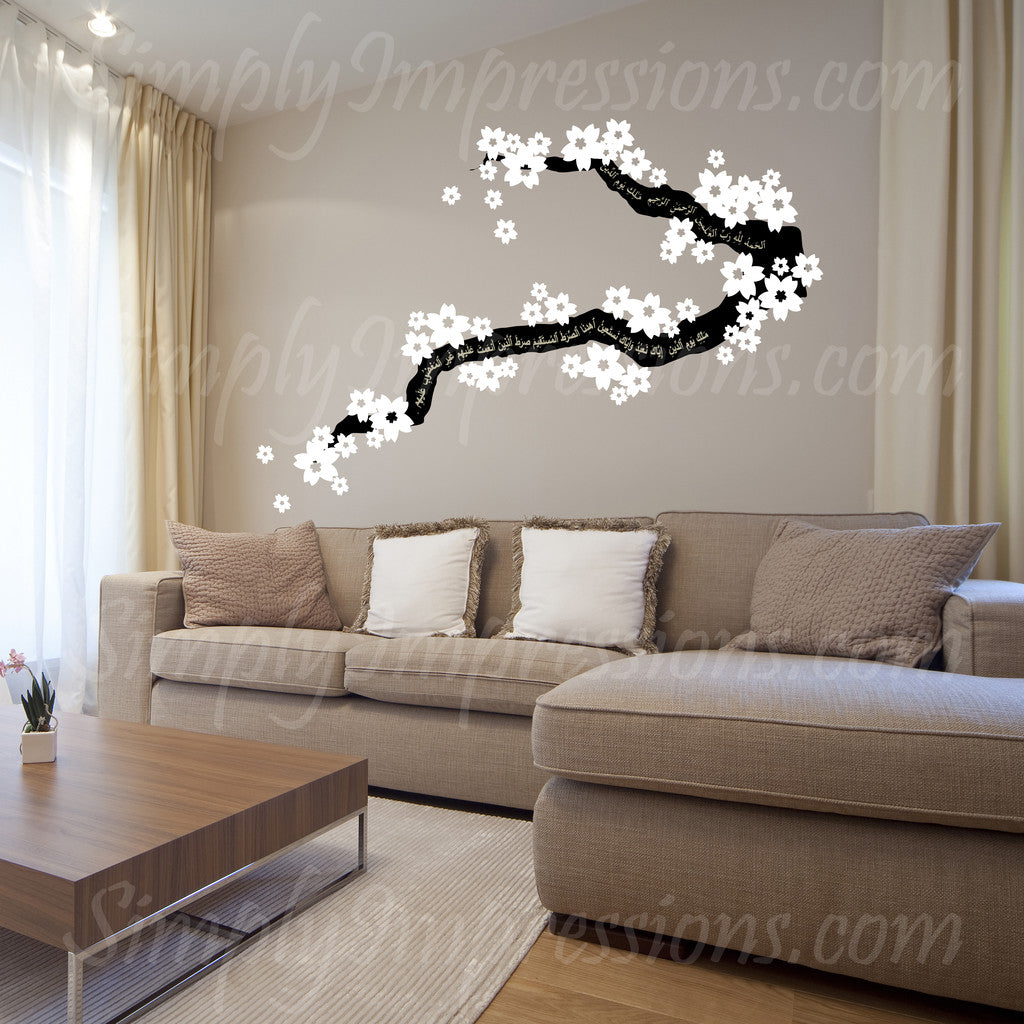 The opening verse of the Holy Quran-- Al-Fatiha. The words are softly whispering through the branch of our beautiful cherry blossom tree. Choose your desired flower color  from the drop down menu, branch color are black, brown and copper , if you would like any other color for the branch, please attach a note to your order. 
Decal comes as two sheets:
Flower wall decal measures 24x27, to be cut and placed along branch as pictured.
Branch wall decal measures 27x45 inches.
Al-Fatiha Transliteration -- Alhamdu lillahi rabbi alAAalameen, Arrahmani arraheem, Maliki yawmi addeen, Iyyaka naAAbudu wa-iyyaka nastaAAeen, Ihdina assirata almustaqeem, Sirata allatheena anAAamta AAalayhim ghayri almaghdoobi AAalayhim wala addalleen, 
Translation --
[All] praise is [due] to Allah, Lord of the worlds Sovereign of the Day of Recompense.It is You we worship and You we ask for help. Guide us to the straight path

the path of those upon whom You have bestowed favor, not of those who have evoked [Your] anger or of those who are astray.
Shipping charges to be applied at time of checkout, please allow minumum 1-5 business days processing on all orders.
Color Chart – For Decals Only
Please keep in mind that color on screen can vary due to variations in screen brands and resolution.
Colors We Carry In Stock

| | |
| --- | --- |
| | Black |
| | Brown |
| | Lavender |
| | Celadon |
| | Copper (metallic) |
| | Dark Grey |
| | Dark Red |
| | Gentian Blue |
| | Geyser Blue |
| | Gold (metallic) |
| | Green |
| | Light Yellow |
| | Maize |
| | Olive |
| | Persimmon |
| | Pink |
| | Silver Grey (metallic) |
| | Teal |
| | White |
| | Yellow Green |
| | Soft Pink |
| | Red |
| | Outdoor White (glossy) |
| | Dark Grey (glossy) |
You Can Count On Us
FREE SAMPLE & COLOR SWATCH
We'll send you a complete swatch of vinyl colors along with a FREE vinyl sample to test on your walls. You only pay for shipping & handling.
GET STARTED NOW
DESIGN SERVICES
Can't decide on a color? Don't know which design goes with your room? Conflicting design ideas? If this is you, we're here to help. We offer professional design services to harmonize your home décor.
TELL ME MORE
CUSTOM COLOR & SIZES
We have a wide range of sizes, colors, paints, and stains to choose from. Can't find the perfect color or size? We're here to help.
GET IN TOUCH
SHIPPING & HANDLING
FREE Shipping on USA orders over $100. When you place an order with Simply Impressions, each art piece is meticulously prepared just for you. Please allow 2-5 days for processing and 2-3 days for USA priority shipping. USA shipping costs $3-$7. Internationals starts at $18.
MADE IN THE U.S.A
Established in 2011, we proudly design and manufacture all our products in the USA and we source all our raw materials from local vendors. Your support helps keep local businesses strong. Thank you!
IMPECCABLE QUALITY
We source the best quality materials. Our vinyl is durable, long lasting, and removable. Our wood products are made from sustainable Baltic Birch Plywood along with locally sourced hardwoods. All our paints and stains are low odor and have a long lasting finish.