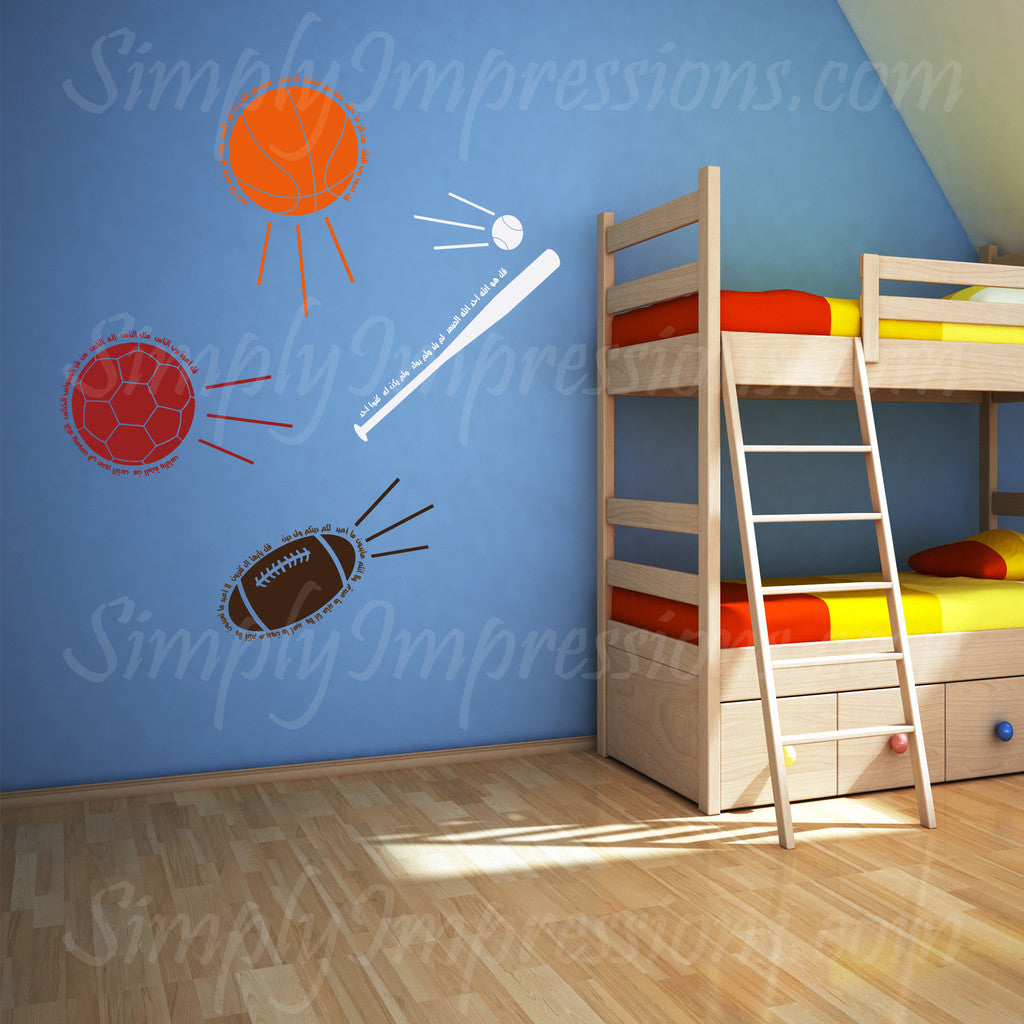 Embellish Your child's room with a playful sports theme decal. Each decal comes with one of the  Quls -- Surah An-Nas, Surah Al-Kafirun, Surah Al-Falaq, Surah Al-Iklas. The sports theme is sure to be a big 'hit' with both parents and children. Place them on your wall or windows for that added charm but most of all it will be a reminder to your child to read the Quls.
Choose from the drop down menu for the desired color and sport decal.
Soccer Ball -- Soccer ball has Surah An-Nas, wall decal measures 17x27 inches. Soccer ball diameter 14 inches
Basketball -- Basketball has Surah Al-Falaq, wall decal measures 17x27 inches. Basketball diameter 14 Inches
American Football -- American football has Surah Al-Kafirun, wall decal measures 12x27inches. Football 15.5 inches (greatest length)
Baseball and Bat -- Baseball and bat has Surah Al-Iklas, wall decal measures 12x27 inches. Bat length 27 inches ball diameter 3.5 inches
All 4 Sports Item -- For your convinces we have all four sport items available in a one solid color of your choice. Comes as a single sheet measuring 30x27 inches. Diameter of the basket ball and soccer ball are10inches. Football 11 inches. Baseball diameter 2.5 inches and length if bat 20 inches.
Note: We make every decal to order, please allow a minimum of 1-5 business days processing on ALL orders.
Color Chart – For Decals Only
Please keep in mind that color on screen can vary due to variations in screen brands and resolution.
Colors We Carry In Stock

| | |
| --- | --- |
| | Black |
| | Brown |
| | Lavender |
| | Celadon |
| | Copper (metallic) |
| | Dark Grey |
| | Dark Red |
| | Gentian Blue |
| | Geyser Blue |
| | Gold (metallic) |
| | Green |
| | Light Yellow |
| | Maize |
| | Olive |
| | Persimmon |
| | Pink |
| | Silver Grey (metallic) |
| | Teal |
| | White |
| | Yellow Green |
| | Soft Pink |
| | Red |
| | Outdoor White (glossy) |
| | Dark Grey (glossy) |
You Can Count On Us
FREE SAMPLE & COLOR SWATCH
We'll send you a complete swatch of vinyl colors along with a FREE vinyl sample to test on your walls. You only pay for shipping & handling.
GET STARTED NOW
DESIGN SERVICES
Can't decide on a color? Don't know which design goes with your room? Conflicting design ideas? If this is you, we're here to help. We offer professional design services to harmonize your home décor.
TELL ME MORE
CUSTOM COLOR & SIZES
We have a wide range of sizes, colors, paints, and stains to choose from. Can't find the perfect color or size? We're here to help.
GET IN TOUCH
SHIPPING & HANDLING
FREE Shipping on USA orders over $100. When you place an order with Simply Impressions, each art piece is meticulously prepared just for you. Please allow 2-5 days for processing and 2-3 days for USA priority shipping. USA shipping costs $3-$7. Internationals starts at $18.
MADE IN THE U.S.A
Established in 2011, we proudly design and manufacture all our products in the USA and we source all our raw materials from local vendors. Your support helps keep local businesses strong. Thank you!
IMPECCABLE QUALITY
We source the best quality materials. Our vinyl is durable, long lasting, and removable. Our wood products are made from sustainable Baltic Birch Plywood along with locally sourced hardwoods. All our paints and stains are low odor and have a long lasting finish.